About DMCI Homes Leasing Services
DMCI Homes Creating Value and Empowering Investments
The latest milestone to highlight this commitment is the revamp of DMCI Homes Leasing Services (DHLS), specifically designed for homeowners and investors.
DHLS is dedicated to providing proactive solutions for unit owners who want their units to be rented out. The service aims to enhance property values and the marketability of DMCI Homes residential developments – primarily for its local as well as overseas buyers who eventually want their homes to be strong working investments, without the hassle.
DMCI Homes Leasing Services (DHLS) is the Official property leasing, investment and management unit of triple A builder/developer DMCI Homes. DHLS offers management services and residential properties for rent or for lease
Here, it's MORE than just your Unit:
Generously-Spaced Residential Units fit for End-Users – DMCI Homes units are built as homes for families and individuals who need enough rooms for them to grow. Developed with end users in mind, lessees will not be burdened with cramped confines of leased units that are prevalent in the city.
Resort-Inspired Amenities that come with every unit - With the resort-like lifestyle that are standard features of residential properties built by DMCI Homes, lessees get to enjoy an assortment of amenities and facilities when they lease units. Whether active or passive or whatever the mood inspires, there are many amenities to choose from.
Exclusive, Worry-Free Living in Communities that Nurture and Relax – Each DMCI Homes project espouses exclusivity through gated entrances and 24/7 security, worry-free living through professional Leasing Services Management Staff, and an idyllic communities that makes lessee's stay a vacation.
Flexible and Customized Terms Fit for your Requirements – Whether your stay is for a month, for years, or for mere two weeks, OR you may want fully furnished, semi-furnished, or bare units, we can accommodate your every requirement and make your stay a memorable experience.
A Heritage of Building Excellence (DMCI Heritage) – Because every project is built and developed by DMCI Homes, you are assured of getting optimum value of your money, exceptional features and amenities, and a world-standard level of craftsmanship borne out of more than 50 years experience in the construction and development industry.
Today is your opportunity to experience living in a DMCI Homes community either vacationing or aspiring to stay in an exclusive, welcoming, and resort-inspired community… through DMCI Homes Leasing Services.
Feels Real Good to be Home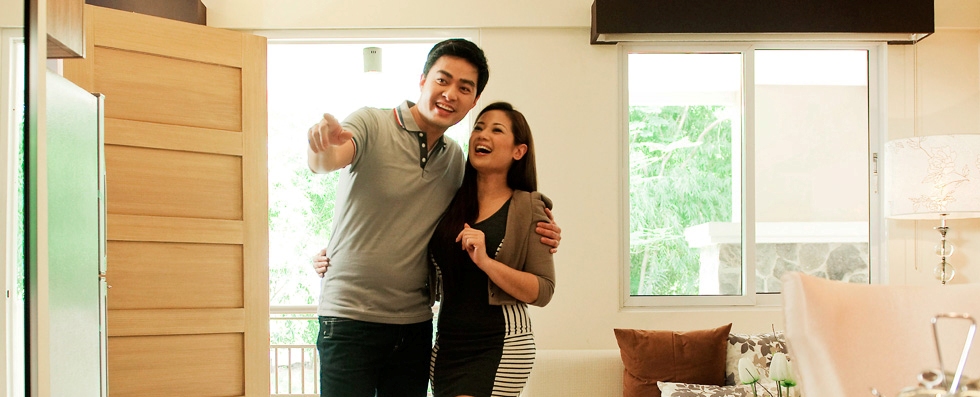 DMCI Homes is the country's premier triple A builder/developer of premium high-quality, urban-friendly, serviced communities for young families of modest income that aspire to live comfortably near their place of work, of study and of leisure.
At DMCI Homes, we build more than condominiums and houses, we build communities that respond to the needs and wants of the Filipino family. Residential communities by DMCI Homes provide what is healthy and suitable for the general well-being of individuals and growing families.
Distinct features of a DMCI Homes residential community
Modern In-City Living
Modern living at its best, DMCI Homes residential communities are strategically located in the vicinity of malls, schools, hospitals, government offices and public transportation.
Medium Density Development
Built to contain only a limited number of housing units to accommodate residents, all DMCI Homes communities are exclusive. This feature allows in the unobstructed entry of natural lighting, constant ventilation and optimum privacy.
Resort Style Amenities
DMCI Homes communities are equipped with complete resort amenities that includes, Clubhouse with function rooms with bar and KTV, swiiming pools, playcourts, landscaped parks and open areas, and biking ang jogging paths.
Themed Development
DMCI Homes residential communities are created with distinct architectural design concepts that show first class development features. Choose from Asian, Mediterranean, Modern Contemporary styled communities.
Worry Free Living
DMCI Homes has a Property Management Group composed of seasoned professionals handles the upkeep of DMCI Homes developments and as well as the day-to-day concerns of its homeowners.
Quality Workmanship
Expect efficient floor plans and high-quality structures with first-rate construction techniques in the development of all DMCI Homes projects owing to its mother company's (DMCI) 50-year commendable track record in the construction industry.
Beyond reliable structures, DMCI Homes' residential communities provide a solid foundation where a family may create a place of their own and grow in a space they can truly call home, now and for years to come.