It's the most wonderful time of the year! Christmas season is, without a doubt, the favorite season of Filipinos. With our holiday countdown beginning as soon as September enters, decorations are up even before Halloween, and of course, everyone's favorite 13th-month pay, Christmas is indeed a joyous time in the country.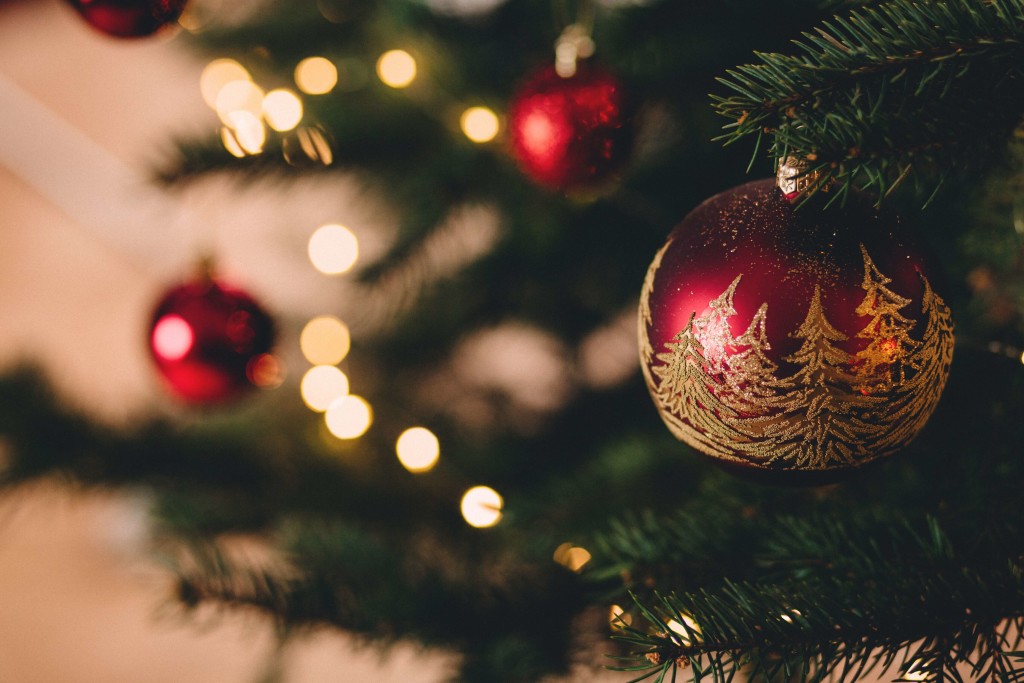 Photo courtesy of freestocks.org via Unsplash
Filipinos have a lot of traditions during the Christmas season. One of the most popular is completing Simbang Gabi—a 9-day novena mass in preparation for Christmas Day, December 25. There are many reasons why attending Simbang Gabi is such a big deal here, one is the superstition that your wish will come true if you complete all 9 masses, and the other is the warm feeling of eating puto bumbong and bibingka for breakfast. 
And while we're at it, nothing beats a warm and scrumptious breakfast after waking up early to attend mass. Treat yourself this holiday with these breakfast recipes you can easily prepare in your condo for yourself or your friends: 
1. Puto bumbong 
If you don't have any sellers of puto bumbong near your church, that's alright, you can whip up your own version of this famous Christmas treat in your own kitchen. Here's how to do it: 
Cooking Time:
10 minutes 
Serves:
6 people 
What you need:
1 kilo of glutinous rice with 125 grams ordinary rice

1 pc. shredded mature coconut or

niyog

½ cup butter or margarine 

Violet food coloring 

Water for steaming and soaking 

Salt and sugar, to taste 
How to cook it: 
Before heading to church, soak the rice in water and violet food coloring for one (1) hour.

Dry the rice overnight inside a flour sack. 

Squeeze out excess water. 

Prepare the steamer by boiling enough water. 

Place the rice mixture inside a bamboo tube. If tubes are not available, you can roll up the rice mixture instead. 

Steam the bamboo mixtures until fully cooked.

Take the

puto bumbong

out and sprinkle with shredded coconut and sugar. 
Add a personal twist to the puto bumbong by plating it with maple syrup, grated cheese, and a cup of brewed coffee. A perfect Pinoy Christmas breakfast!
2. Pinoy-style Scrambled Egg Tacos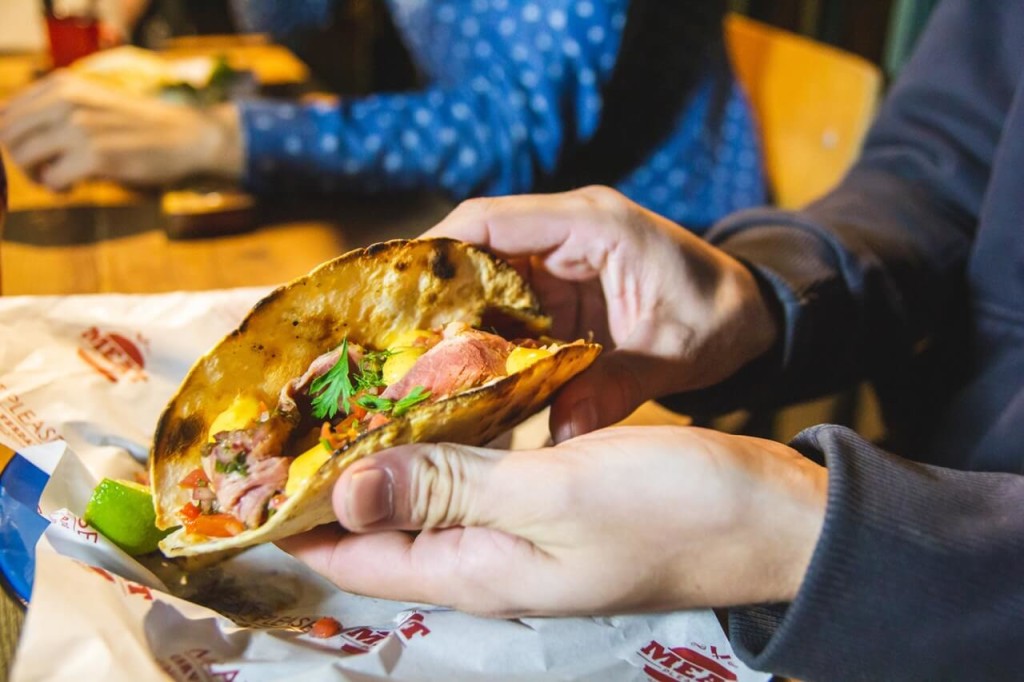 Photo courtesy of Vinícius Caricatte via Pexels
Take the mexican favorite with a pinoy twist. A serving of hearty scrambled egg taco will surely delight and tickle your taste buds from the tangy sour cream and cilantro. 
Cooking Time:
 15 minutes 
Serves:
4 people 
What you need: 
2 tbsp. olive oil

400 grams black beans, rinsed

1 clove garlic, finely chopped

4 cup baby spinach

1 tablespoon fresh calamansi juice

8 large eggs

8 yellow corn or soft flour tortillas

Sour cream, crumbled mild feta cheese, and cilantro, for serving

Salt and Pepper, to taste
How to cook it: 
Heat 1 tablespoon oil in a large skillet. Add beans and garlic, then season with salt and pepper, to taste.

Cook until garlic starts to turn golden brown. Add spinach, remove from heat, and toss together until leaves just barely wilt. Stir in calamansi juice. 

In a large bowl, whisk together eggs, 1 tablespoon water, and 1/2 teaspoon each salt and pepper. 

Heat remaining tablespoon oil in another pan. Add eggs and cook, stirring with a rubber spatula every few seconds to desired doneness.

Lightly char tortillas over a gas flame. Serve tortillas with beans, eggs, sour cream, feta cheese, and cilantro, if desired.
3. Christmas rice bowl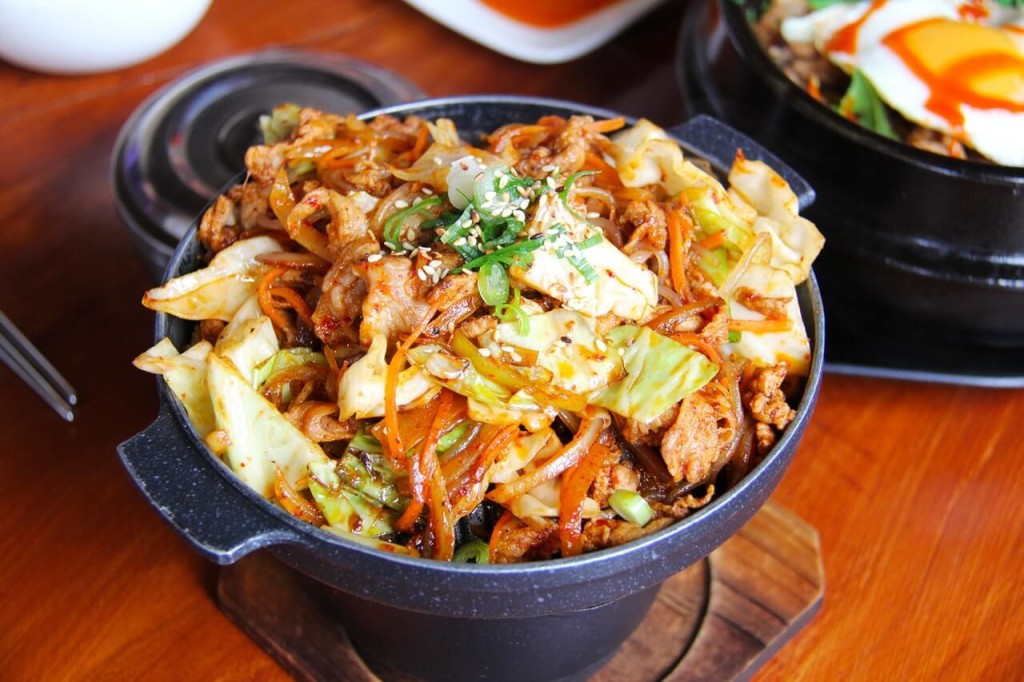 Photo courtesy of Pixabay via Pexels
Incorporate the colors of Christmas in your breakfast bowl by adding the right ingredients to the typical sinangag and ulam combination. 
Cooking Time:
5 minutes 
Serves:
4 to 6 people 
What you need: 
¼ cup butter 

3 cups of cooked white rice 

½ cup of garlic 

½ cup of celery, finely chopped

½ cup of red bell peppers, finely chopped 

½ cup of green bell peppers, finely chopped 

Salt and pepper (for preference)

½ cup of diced ham (Christmas ham)
How to cook it: 
Fry 3 cups of cooked white rice on a pan smeared with butter and garlic 

Throw in the celery, bell peppers and add seasoning according to your liking. Stir until vegetables are cooked. 

Add the diced ham into the pan and stir until cooked.

Serve in a deep bowl with a cup of brewed coffee. 
4. Christmas pancakes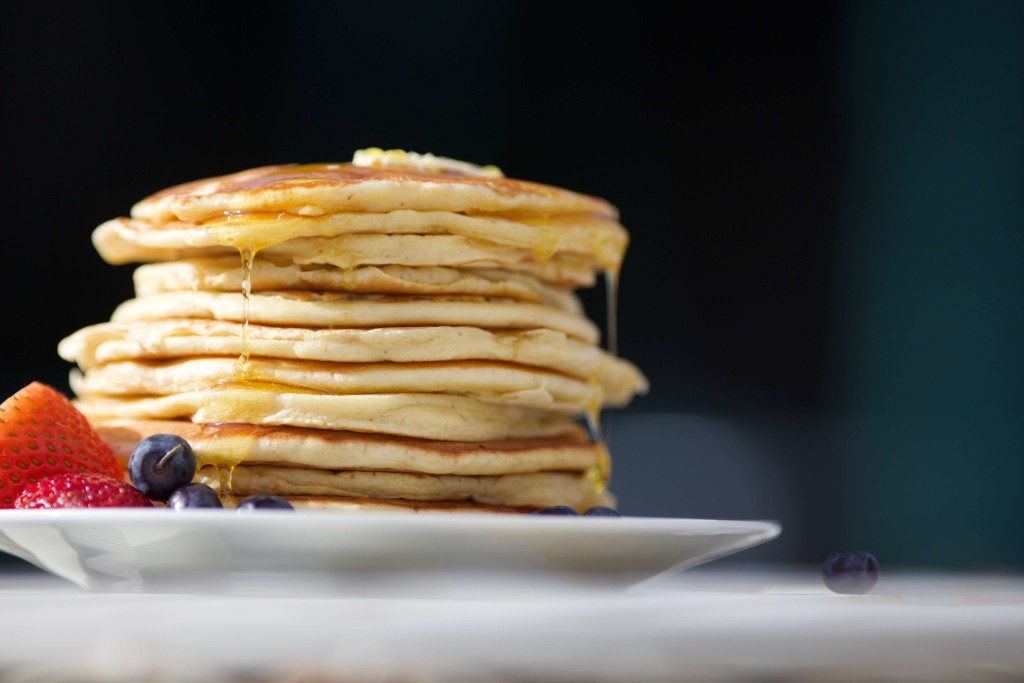 Photo courtesy of Luke Pennystan via Unsplash
Let's face it. Raising kids in a condo is not that easy. Reward your kids from time to time with Christmas-themed pancakes.
Cooking Time:
20 mins 
Serves:
4 people 
What you need: 
2 cups all-purpose flour 

2 ½ teaspoons baking powder 

2 tablespoons sugar 

½ teaspoon of salt 

1 lightly beaten egg 

1 ½ cup milk

2 tablespoons butter 
How to cook it: 
Stir in flour, baking powder, sugar, and salt into one bowl. 

In a separate bowl, mix in the egg and milk. After this, add the flour mix, and stir until the mixture is smooth. 

Add the butter and mix. 

Split the mixture into two bowls and add red and green food coloring. 

Heat a non-stick pan with cooking spray or a small amount of cooking oil for 10 minutes 

Place Christmas tree- and gingerbread-shaped cookie cutters into the pan, and pour the batter to form shaped pancakes. 

Cook both sides until golden brown 

Serve with a generous amount of butter and syrup. You can also add fruits to emphasize the holiday spirit. 
5. White champurrado
Nothing beats a warm bowl of champurrado after a chilly walk from the church. Champorado is also known as chocolate rice porridge, one of the most famous Filipino breakfasts. With this version, white chocolate is used for that richly sweet effect. Kids love it, too.
Cooking time:
30 mins 
Serves:
6 people
What you need: 
1 cup chopped white chocolate

1 cup of glutinous rice (

malagkit

or sticky rice) 

¼ cup dried fruits and nuts, optional

¾ cup condensed milk

4 cups of water 
How to cook it: 
Let the water and rice boil into a cooking pot. The heat of the pan should be in low-medium. 

Remember to constantly stir to prevent the rice from sticking. Allow the rice to absorb the water. 

When the rice is cooked, add half a cup of the white chocolate, and stir until melted. Add the remaining chocolate into the mixture, with a pinch of salt to taste. Keep stirring until the chocolate has melted completely.  

Serve the champurrado in bowls, topped with a generous amount of milk, dried fruits, and nuts to your liking. 
6. Christmas grilled cheese sandwich
A grilled cheese sandwich is a perfect breakfast meal no matter what season it is! Add a Christmas flair to it by adding Christmas-colored vegetables.
Cooking Time:
15 minutes 
Serves:
2 people 
What you need: 
Four slices of white bread 

2 slices of cheddar cheese 

3 tablespoons of butter

1 tablespoon of red bell pepper, finely chopped

1  tablespoon of green bell pepper, finely chopped

2 slices of Christmas ham 
How to cook it:
Spread butter on one side of each bread slice. Place the buttered side down on the frying pan. 

Add one slice of cheese on two bread slices, then sprinkle red and green bell pepper on the cheese 

Place the Christmas ham on top of the cheese, then top the other bread slice (buttered side up), then flip the sandwich until bread is golden brown or when the cheese has melted. 

Slice the sandwich diagonally and serve with salted chips and orange juice 
7. Breakfast fruit salad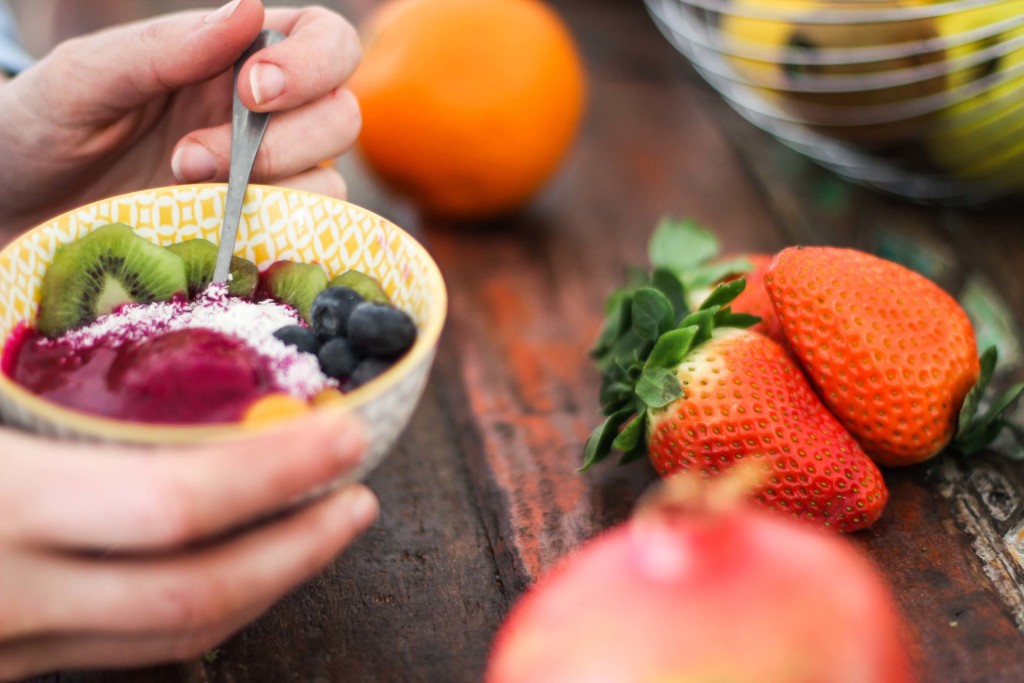 Photo courtesy of Sara Dubler via Unsplash
Who says that fruit salads are just for desserts? It's a healthy option for breakfast, too. Whip up this healthy breakfast recipe right after Simbang Gabi. 
Cooking time:
10 mins 
Serves:
2 to 4 people 
What you need: 
A cup of red fruits (apple, berries, or pomegranate) 

A cup of green fruits (kiwi, green apples)

A cup of white fruits (dragon fruit, bananas) 

½ cup of nuts 

1 cup of grated cheese 

½ cup of cherries 
How to cook it: 
Place the fruits in one big mixing bowl, mix well. 

Sprinkle in nuts for that extra crunch and the grated cheese for a salty effect to balance out the sweetness of the fruits 

Add cherries for the bright Christmas red effect. 
8. Holiday-infused french toast 
Nothing says holidays more than cinnamon. Enjoy warm slices of french toast with a cup of hot chocolate after a Simbang Gabi. 
Cooking Time:
30 mins 
Serves:
4 people 
What you need: 
1 teaspoon ground cinnamon 

¼ teaspoon nutmeg (not recommended if you have allergies)

2 tablespoons sugar 

4 tablespoons butter 

4 eggs 

¼ cup milk 

½ vanilla extract 

8 slices of white bread 

½ cup warm maple syrup 
How to cook it: 
Combine cinnamon, nutmeg, and sugar in one bowl. Mix well 

In a shallow pan, put in the eggs, milk, vanilla, and cinnamon mixture. Mix well. 

Dip the bread slices unto the batter,

In a non-stick pan, fry the bread slices until golden brown on both sides. 

Serve with a few teaspoons of maple syrup, or beside the breakfast fruit salad. 
Feel the warmth of the Christmas season by whipping up these breakfast recipes for your family after attending the Simbang Gabi. Enjoying these simple yet delicious meals with the most important people in your life will make the holidays more special.