Moving to Baguio soon for college or job relocation? Consider yourself lucky. It's so easy to fall in love with Baguio! You'll enjoy cool climate all-year round (and some really chilly nights), a peaceful, charming environment, a vibrant culture, and other cool perks of living in the country's favorite holiday destination. Ease yourself into your new life in Baguio with this quick guide.
Find the best place to stay in Baguio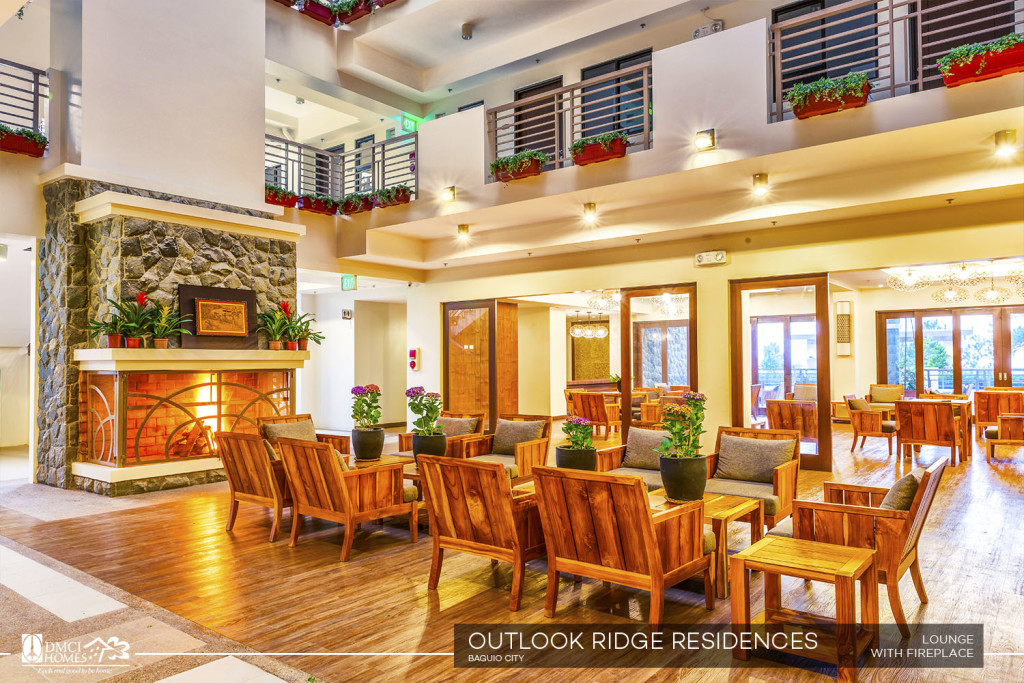 The first step to making yourself feel at home in Baguio: finding the perfect place to call your own. Go with a living space that strikes a balance between modern convenience and Baguio's old-school charm. A condo space for rent in a DMCI Homes property like the Outlook Ridge Residences provides exactly that — affording Baguio residents the simple pleasures of daily condo living in the City of Pines.
Accessibility isn't a problem if you live in Outlook Ridge Residences. Schools like UP Baguio, St. Louis University, and University of Baguio are just a quick drive away. So are malls like SM Baguio and Baguio Center Mall, as well as top tourist attractions like Mines View Park, Camp John Hay, The Mansion, and Wright Park.
Inside the DMCI property, amenities exude the chill Baguio vibe. There's a comfy lounge with fireplace, a landscaped mid-deck garden with fire pit, a roof garden, and even a sauna!
Be familiar with Baguio's main roads
Before you leave for Baguio, or as soon as you set foot in it, learn the location of each destination you'll often go to. Get a free tourist map at the bus terminal or the City Tourism Office to help you navigate the city on your first few days.
Here are some of the main roads you must know as a would-be Baguio resident:
Session Road - Baguio's main avenue and commercial hub that's lined with restaurants, shops, banks, bazaars, and offices. It's a walking distance to the Baguio City Market and Burnham Park.

Governor Pack Road - The road that links Marcos Highway to downtown Baguio. Bus terminals and schools like the University of the Cordilleras are located here.

Leonard Wood Road - The road that links Session Road to Mines View Park. This is where Botanical Garden and Teacher's Camp are located.

Harrison Road - The road that links Governor Pack Road to Magsaysay Road. It's near Burnham Park and Session Road.
Don't get lost! Learn how to get around the city
Baguio is best explored on foot, especially on your first few weeks in the country's summer capital. Revel in the cool breeze while observing the locals going about their daily lives.
But if you need to get to your destination faster, ride either a taxi or a jeep. Although it's more expensive, taking a cab is way more convenient for first-timers.
Taxi rides in Baguio are a lot less stressful than in Metro Manila, as most drivers are honest and friendly — they don't overcharge their passengers and even give the exact change. Baguio cab drivers are also required to help load and unload their passengers' baggage.
Start your day with an early morning run
What better way to start the day than being one with nature. Go jogging, biking or running in Burnham Park, Camp John Hay or Teacher's Camp. Baguio won't disappoint you with its scenic parks perfect for your daily fitness routine.
Dread the freezing, cold shower? EmBRRace it!
The biggest challenge of living in Baguio? Getting used to showering with ice-cold water. Brr! Does the mere thought of it send chills down your spine? Just embrace the rush of cold water — it's actually good for your health. Studies and health experts claim that cold showers increase alertness, improve immunity, relieve stress, and reduce weight.
Start by turning the heater on and then lowering the temperature as your body adjusts to the cold water. Distract yourself while showering, like listening to your playlist and humming along. Make it a daily habit and eventually showering with cold water will become second nature to you.
Bask in the awe-inspiring mountain views
If seeing breathtaking landscapes is among your reasons to move to Baguio, you'll never run out of options, more so if you stay at Outlook Ridge Residences. Residents in this DMCI Homes condo property can hang out on the view deck to enjoy a panoramic view of the mountains with towering pine trees. Just nearby is the Mines View Park where you can admire the picturesque view of the Cordillera mountains and the city's gold and copper mines.
Know the food trip hotspots by heart
Baguio offers a distinct food experience you won't get elsewhere in the Philippines. When you come up to this city, make yourself feel right at home by going on a food trip every weekend. With plenty of restaurants and street snacks to choose from, Baguio will surely satisfy your hunger pangs.
First on your must-eat list: the sweet and gooey strawberry taho peddled in Wright Park, Burnham Park, Botanical Garden, and other parks in the city.
Just a few minutes' walk from the Outlook Ridge Residences and right across Wright Park is Ketchup: The Food Community, which houses a variety of restaurants appealing to different palates. Eat home-cooked Pinoy meals, as well as Thai, Indonesian, and Malay cuisines. Many foodies swear by Canto's lomo ribs, so make sure to try them.
Along Session Road, you'll enjoy hopping from one restaurant to another. There's Pizza Volante for your midnight pizza cravings, Solibao for traditional Filipino fare, Vizco's for a heavenly slice of strawberry shortcake, and Tea House for the delectable Chona's Delight (moist chocolate cake).
Prepare home-cooked meals using fresh ingredients
Local fruits and vegetables are fresh and cheap in Baguio. Haggling is the norm, so your money will go a long way. Go to the Baguio City Public Market early in the morning to buy newly harvested produce like strawberries, broccoli, baby potatoes, and more. The market opens daily at 5 a.m., and it's easy to get there from a condo for rent at Outlook Ridge Residences.
Immerse in the local art scene
Baguio is the first city in the Philippines to earn a global distinction as a UNESCO creative city for its arts and crafts. Doesn't that make you proud of your soon-to-be home city? Immerse in its local culture. Visit the BenCab Museum, Baguio Museum, Victor Oteyza Community Art Space, and Tam-awan Village to see for yourself why Baguio is renowned for its woven art, handicrafts, and wood carving.
Don't miss out on the Baguio nightlife
Yes, you can look forward to spending a lively nightlife in Baguio. Shop at the ukay-ukay stalls in Baguio Night Market at Harrison Road. Lots of bars and clubs are open along Session Road for partying with your new friends. If you prefer a low-key evening, you'll find peace and quiet in Burnham Park.
Excited to live in Baguio? You'd better be! May this quick guide help you adjust better in your new adventure as a first-time Baguio resident.