Public transportation is a matter of great debate in the Philippines, especially with the added stress of the global pandemic and quarantine measures. With cases of COVID-19 still rampant in the country, people need commuting safety guides to protect themselves when going to school or to work.
Since limitations on public transportation are making it difficult for people to travel, many Filipinos have taken to bike commuting as an alternative to waiting in long, congested lines for jeeps or trains. However helpful, it isn't the perfect just yet as frontliners struggle with biking to work.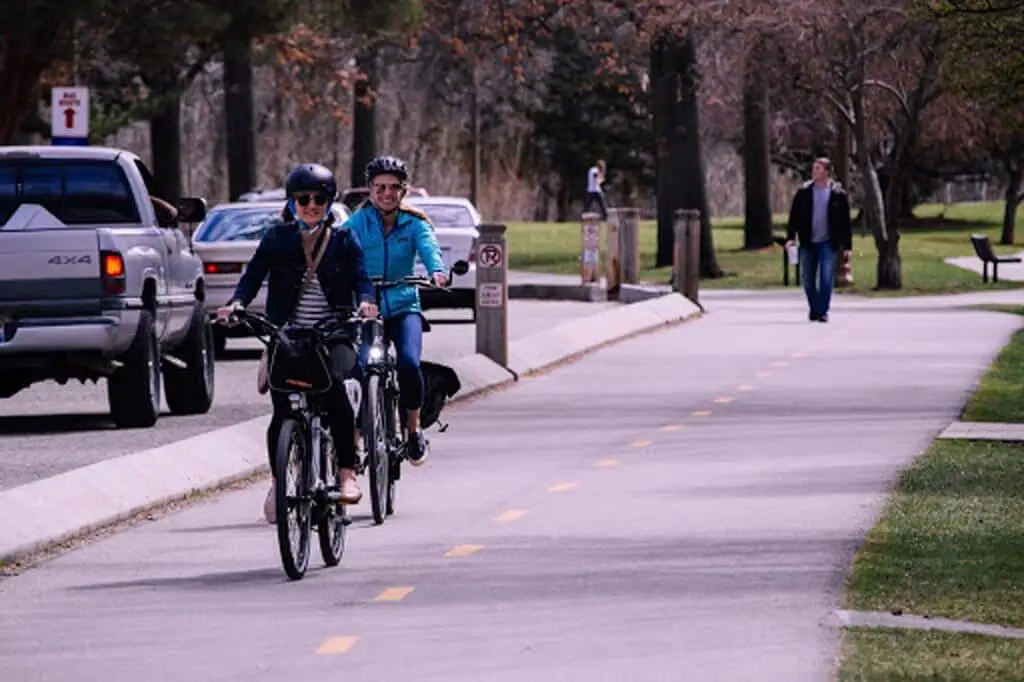 Photo courtesy of Brett Sayles via Pexels
Inconveniences aside, bike commuting can contribute to better health and longer life. Plus, it's a great way to safely get to where you need to go without risking exposure to others in public vehicles.
On top of the personal health benefits that bike commuting offers, there are also many environmental benefits to biking to work. With all these benefits, bike commuting is worth considering as one of the healthy changes you can do at home during this pandemic.
Safety Tips and Considerations for Buying a Bike for Commuting
Enjoy the benefits of biking to work or to school. Check our comprehensive list below of safety tips for bike commuting:
1. Choose a stable and trusty steed.
There are many types of bikes for different purposes. For a safer and smoother ride, you'll need to pick out the one that best suits your needs. Below is a list of bicycle types and their best uses:
Road bicycle. The most common type, this bicycle is lightweight and is usually used for riding on pavements and other smooth surfaces.
Mountain bicycle. This type of bicycle is more durable, with knobby tires that can ride on dirt roads and rough terrain.
Gravel bicycle. This type of bicycle is like a cross between a road bike and a mountain bike. It can be ridden on both rough and smooth terrains with ease.
E-bike. Electric bikes can fall under any of the previously mentioned types. What makes these special is that they're equipped with a small, lightweight motor that partially or completely eliminates the need to pedal the bike.
2. Considering having additional essential bicycle accessories.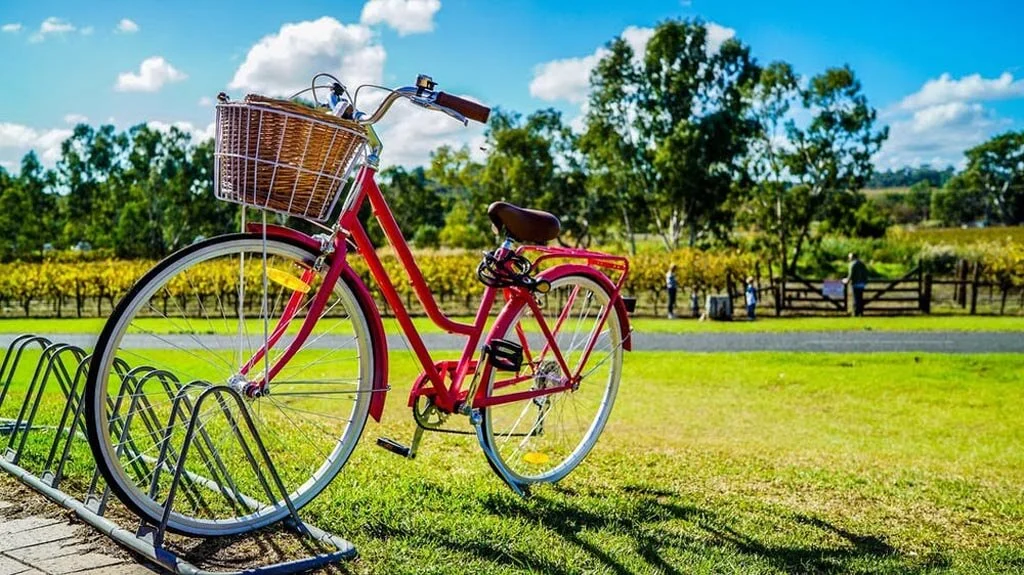 Photo courtesy of Jodie Louise via Pexels
You'll need a few helpful accessories for your upcoming commute. Ensure a safe ride by having the following tools on hand or on your bike:
Built-in rack or basket. Having that extra space to carry your things will be a godsend. While you could put all your things in a backpack, but it'll make your ride a lot more comfortable with no added weight on your back.
Bicycle lock. Keep your bicycle secure under lock and key, literally! Have a thick, high-quality bicycle lock on hand to keep thieves from stealing your best mode of transportation.
Bicycle bell. A bicycle bell isn't just for cute French bikers enjoying a leisurely ride. It can help you warn people on sidewalks that you're behind them. It'll keep both you and pedestrians safe on your way to work or to school.
Fender.Fender. So named because it literally fends off rainwater puddle, mud, and dirt from splattering on you when you drive on them. A fender on your rear tire will keep you from getting dirty, most especially on rainy days.
3. Protect yourself with essential safety gear.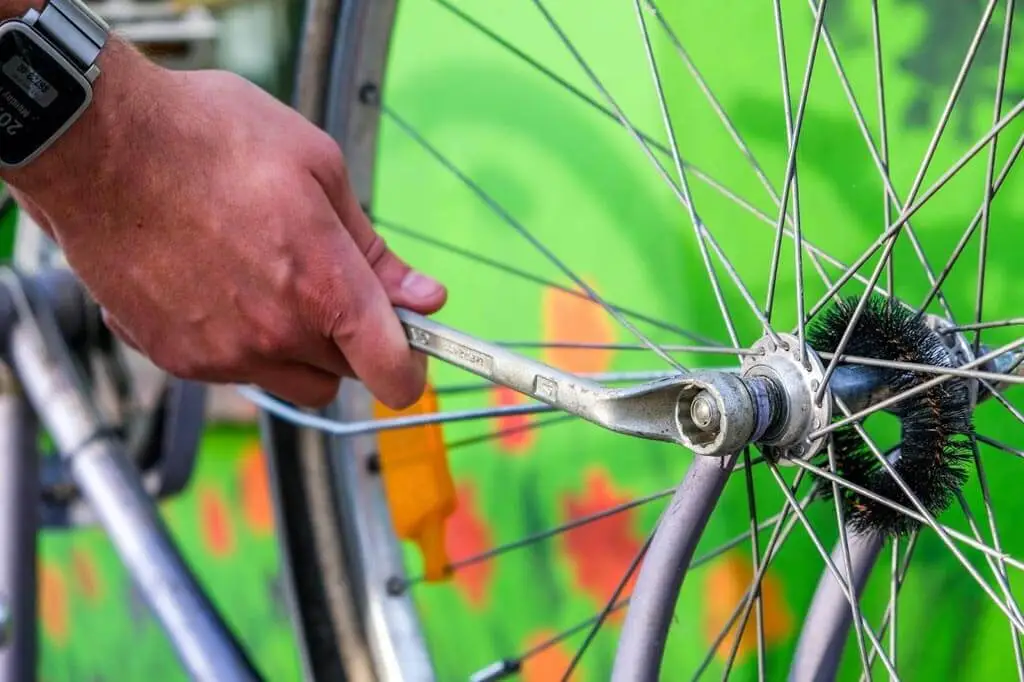 Photo courtesy of Julia Schmid via Pexels
While you're shopping for the best bike for commuting, you'll also need safety gear to go with it. Consider the following essential safety gears while you're filling your basket up at that online cycling shop:
Bicycle helmet - A helmet is the single, most important safety gear for any cyclist, no questions asked. In fact, many cycling enthusiasts in the country advocate the "no helmet, no ride" rule. The importance of riding with a helmet cannot be overemphasized, so much so that in some areas, like Quezon City, wearing a helmet is now required by law for cyclists.
A flat-tire repair kit - It would be dreadful if you got a flat tire on the way to school or to work. Keep a flat-tire repair kit on hand to keep you ready at all times. Along with your kit, portable mini-pumps are also great to have along with bike wrenches, if you need to change the entire wheel in a remote spot.
Cycling clothes. Wear high-visibility clothing and accessories that can be easily seen by motorists and other drivers to keep you safe on the road. Additionally, wear cycling shorts to prevent developing blisters or rashes.
Bicycle and helmet lights. You'll need a white light for the front of your bike and a red light at the back to signal other drivers. These are the best bike lights for commuting, especially if you're traveling early in the morning or late at night. Though bicycles almost always come with reflectors, make sure to check for lights, too, when you purchase your bike.
Eyewear. Cycling sunglasses don't just make you look cool. They also protect your eyes from UV rays, sunlight, and dust when you're commuting.
Personal ID. Always have an identification card on you every time you bike; so that should anything untoward happen, you can be identified and your next of kin or emergency contact notified.
Cycling Rules, Laws, and Guidelines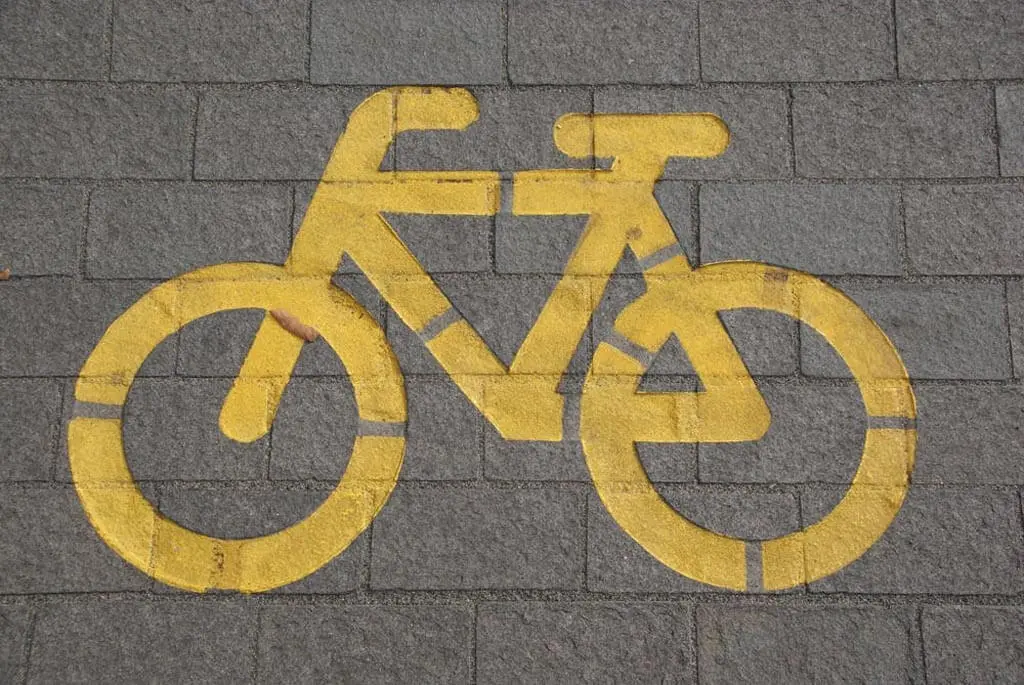 Photo courtesy of Pixabay via Pexels
Aside from the right tools and accessories, you'll also need to know the local laws and regulations for cyclists. Make sure to research on and observe the different cycling rules in the cities you'll travel to.
Below are other guidelines to observe when cycling:
4. Know the necessary hand signals.
These hand signals can keep you safe when you share the road with cars and other vehicles. Follow these biking-to-work cartoons and visual guides, to learn how to clearly signal motorists on the road during your daily commute.
5. Keep your ears and eyes open at all times.
You need all your senses engaged when you cycle in car-congested areas. Avoid listening to music while biking. Be on alert at all times and aware of your surroundings.
6. Connect and communicate with other cyclists.
Groups, like the EDSA Evolution and the Move As One Coalition, lobby for the rights of cyclists to get to work safely. Join such groups to stay up-to-date on new biking rules, regulations, and activities you can participate in with fellow members. To find a group in your area, Facebook is a good place to start.
Biker Tips for a Better Commute Experience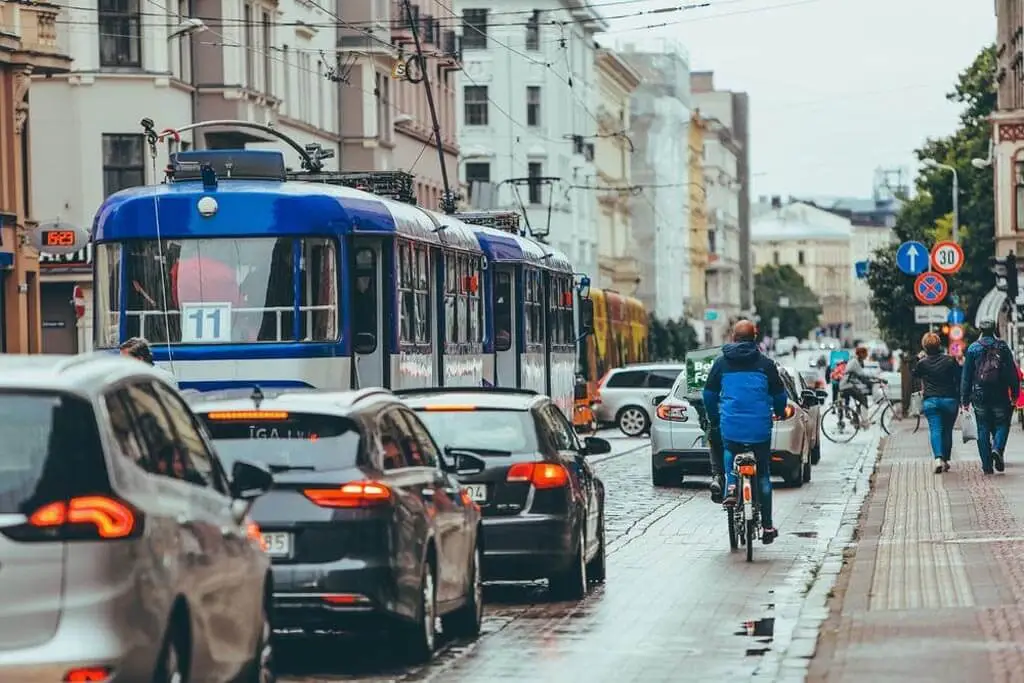 Photo courtesy of Vlad Fonsark via Pexels
7. Prepare your office or school locker.
Make sure to keep extra clothes, shoes, toiletries, and snacks in your locker, in case you leave or lose your change of clothes. Have a separate bag for your sweaty clothes, and wrap your athletic shoes in the newspaper after your trip, to help them dry before your ride home. Don't forget to disinfect regularly, especially when leaving and arriving home.
8. Plan your route ahead of time.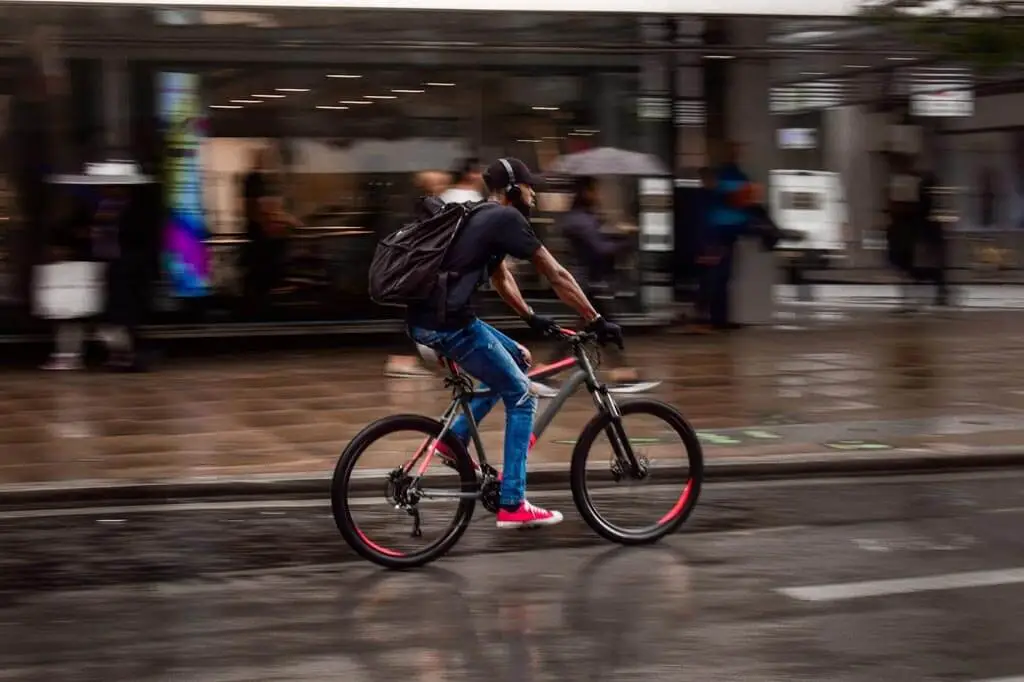 Photo courtesy of Nacho Santana via Pexels
Check for traffic and weather updates regularly; so you can bring necessities, like raincoats. Or, leave home earlier if needed. Riding out early is better than running late if you get caught in bad weather.
9. Take the road less traveled.
This classic adage is very applicable to cyclists. When commuting via bicycle, pick less congested yet safe roads to help speed up your commute and keep it safe.
10. Find a biking buddy.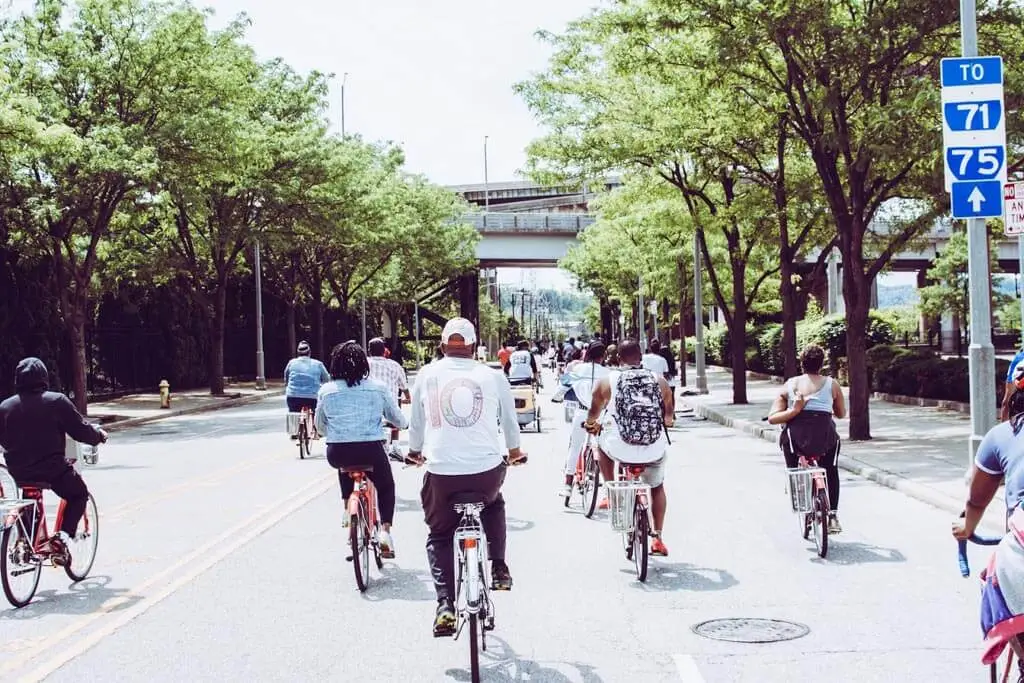 Photo courtesy of Ahshea1 Media via Pexels
Do you have officemates or neighbors who also bike to work and take the same route as yours? If so, consider cycling with them to work or to school. Why? Because there is safety in numbers. When you cycle in a group, you can keep an eye out for one another, helping ensure safety while having fun with your newfound road companions.
The global pandemic has greatly impacted everyone's lives this 2020. While you're still encouraged to stay indoors and enjoy online activities with family and friends, you may still have to leave your home to go to school or to work.
Staying well and healthy is the number one priority people should do in this pandemic. This means exploring safer means of traveling to work, like bike commuting.
Biking to work in the Philippines will benefit you in many ways. Once the pandemic is over, you can have more biking activities to look forward to after the lockdown. Until then, ride safely every day.