There were so many real estate highs and lows, given the financial impact of the COVID-19 pandemic. When you're exhausted by the financial demands of paying rent, a to own condo will sound like a distant and impossible dream for you.
You were probably hard-hit by the financial crisis wrought by the global pandemic. It's hard enough to be financially stable while renting, due to affordability and payment methods. Who has the time to calculate between renting and buying when you're making ends meet during a global crisis?
If you want to own a condo but can't afford a one-time, big-time payment right now, maybe you should explore affordable payment schemes for rent to own condos in the Philippines instead.
Rent-to-own (RTO) is an agreement where the buyer can rent a property, with the intention of purchasing it at the end of the rental period. Both parties agree on things like the monthly rent, purchase date, and sales price before signing any contracts. But it essentially ensures your future ownership of the property while you're still renting it.
Owing to their central location and first-rate amenities, condominiums are a preferred option among rental properties. Condo leasing is especially preferable when you take into consideration the worsening traffic conditions in Metro Manila. Whether you are considering condo buying or renting, you'd do well to learn about the factors that contribute to condo value and pricing along with the rental law in the Philippines. Learn about condo price ranges in the metro based on key factors such as size and location.
Is RTO a good idea?
An RTO agreement is a great idea for aspiring owners who need time to work on their financial stability. With an affordable rent-to-own condo in the Philippines, you get a chance to move into your dream house right away, while working towards getting a mortgage on the home.
Yes, you will have to do a lot of planning and communication when it comes to a rent-to-own home. You pay for the monthly rental and the property's down payment over time, and you finance your mortgage at the end of the lease. But an RTO agreement brings you one step closer to owning your dream home, even during difficult times.
If you're planning to look for condos for rent and you're faced with an option of choosing between short-term and long-term leasing, get to know first the difference between the two before making a decision.
Long-term lease
Lease is for six months or more, and is usually signed directly with a private landlord, who is the condo unit owner. The owner can agree to a shorter stay (up to six months) and still maintain long-term lease terms, depending on the negotiation.
Security deposit is required. The amount will depend on the landlord but can be open to negotiation. The rental price does not include administration fees and utilities.
Rented units can be fully or semi-furnished. Before moving in, the renter can be given a document or any proof of turnover protocol that discusses the condition of the unit and an inventory of existing furniture and other items.
Pros and cons of long-term lease
There is rent control. The landlord can't raise rents within the period of your contract.
You have to pay your own utilities, which can be a pro or con depending on your usage. If you're careful with your utilities, you may end up paying less for water and electricity as compared to the inclusive amount that you pay for short-lease.
The landlord can't evict you anytime he pleases. Again, the locked-in period works to your advantage here.
Short-term lease
Lease is for three months or less. Security deposit is usually waived for a short-term stay.
Units are usually fully furnished and ready for moving in. Renters can enjoy the use of basic furniture and utilities of condo living such as TV, washing machine, refrigerator, and internet connection.
Regular housekeeping can be arranged. In some cases, fresh linen is provided daily, just like in a hotel or serviced apartment.
Rental price is all inclusive and the tenant does not have to worry about paying utilities and other extra bills.
Pros and cons of a short-term lease
It offers more flexibility for the renter. This is definitely a plus for people who really don't plan to stay in the area for the long term. If you're a foreigner on a brief vacation or an employee who keeps getting transferred from office to office, renting short-term is a more practical option. This is great for those who have just moved into a city and prefers to get to know the place first before considering permanent residence. With that said, it won't hurt to brush up on rental law in the Philippines.
You can break your lease for little or no extra cash. Since you're not locked in a long-term agreement, you can easily move out if the need for relocation arises without having to shell out penalty money.
You can easily negotiate for a long-term agreement if you decide to stay. If your payments are consistent and you're generally a good tenant, the landlord will not hesitate to convert your lease to a long-term agreement.
A wise renter explores all their options when it comes to buying real estate in the Philippines. Are you an aspiring owner who's looking for the best financing options for your future home? Check out these rent-to-own tips for all your future real estate needs.
Buying condo property versus rent-to-own
What are the distinct differences between the traditional process of buying a condo property versus an RTO agreement?
When buying a good condo unit, you pay a lot in one go for immediate ownership of the property. You strategize your finances towards the down payment, mortgage, and installments, along with expenses for legal fees, furniture, and the like. You pay a lot at once to immediately own your home.
When you enter into an RTO agreement, your ownership process is a lot more gradual. Based on the rental law in the Philippines, you pay off your down payment over the course of your lease, and you work towards improving your financial stability for the eventual mortgage payment. You get to move into the property right away, but you don't officially own it until you buy the property.
Depending on your situation, you may prefer the former option over the latter. However, given the way the COVID-19 crisis impacted the whole world in 2020, you may be more inclined to pursue an RTO agreement for the sake of your financial stability.
Rent-to-own pros
If you're in the middle of a financial crisis, property investment will not be your priority — even if you've wanted to own a home for a long time. When you buy a unit, you need to be secure in your finances to pay off everything at once. But you may not feel safe enough to do so for a long time if you're going through something unstable like a pandemic.
With an RTO agreement, aspiring owners have a chance to move into their dream house immediately, allowing them time to work on their financial health before getting a mortgage on the home. You pay for the monthly rental and the property's down payment over time so that by the end of your lease you're stable enough to finance your mortgage.
Rent-to-own cons
Of course, there are cons you have to consider too. For example, if you decide during your leasing period that you don't want to buy the unit anymore, you lose all the extra money you put in for the property's down payment.
You also don't have total control over the property because you don't own it yet. If your landlord loses the property through foreclosure or makes bad maintenance decisions for the unit, you're both at risk for huge financial losses.
All in all, a good RTO contract is the key to a good condo home. Be as thorough as possible with the contract by going over it with your landlord and with other hired lawyers and professionals, too. That way, you can ensure security for both parties and benefit from the condo real estate opportunity.
Are fees included?
Depending on the length of your stay, you might be required to pay the monthly homeowners dues and other utilities. But if you are only staying for a few days or weeks, the rate is likely to be all-inclusive. But make sure to discuss fees and dues with the owner before agreeing to rent a unit. You can try to make arrangements. If you are liable for utilities, find out the average costs paid by the previous renter to at least give you an idea.
Secure a home early to buy it under market value
When you enter into an RTO contract, the property's sale price on the written agreement is final and cannot be changed. If you and your landlord set the property's purchase price at the start of the contract, the seller cannot increase its price after the fact. That means that you could technically buy a property for less than its current market value.
The amount listed in the contract is final and cannot be increased, even if the property's value increases over time. So secure your home early and write that contract out early. Your future self will thank you when they pay for a home that is way under its current market value.
Rates by size and location
Two of the important determinants for the rental price of a condo unit are size and location. In terms of average rental rate per square meter, Manila and Quezon City are among the most affordable places to rent a condo, Php610 and Php614 per month respectively. You can rent a condo in Las Piñas for as low as Php478 per square meter per month. The most expensive condos are in Makati, with rates running at an average of Php920 per square meter per month. Rates in Taguig and Pasay run around Php895 and Php880 per square meter per month, respectively.
Flexible studio-type condo unit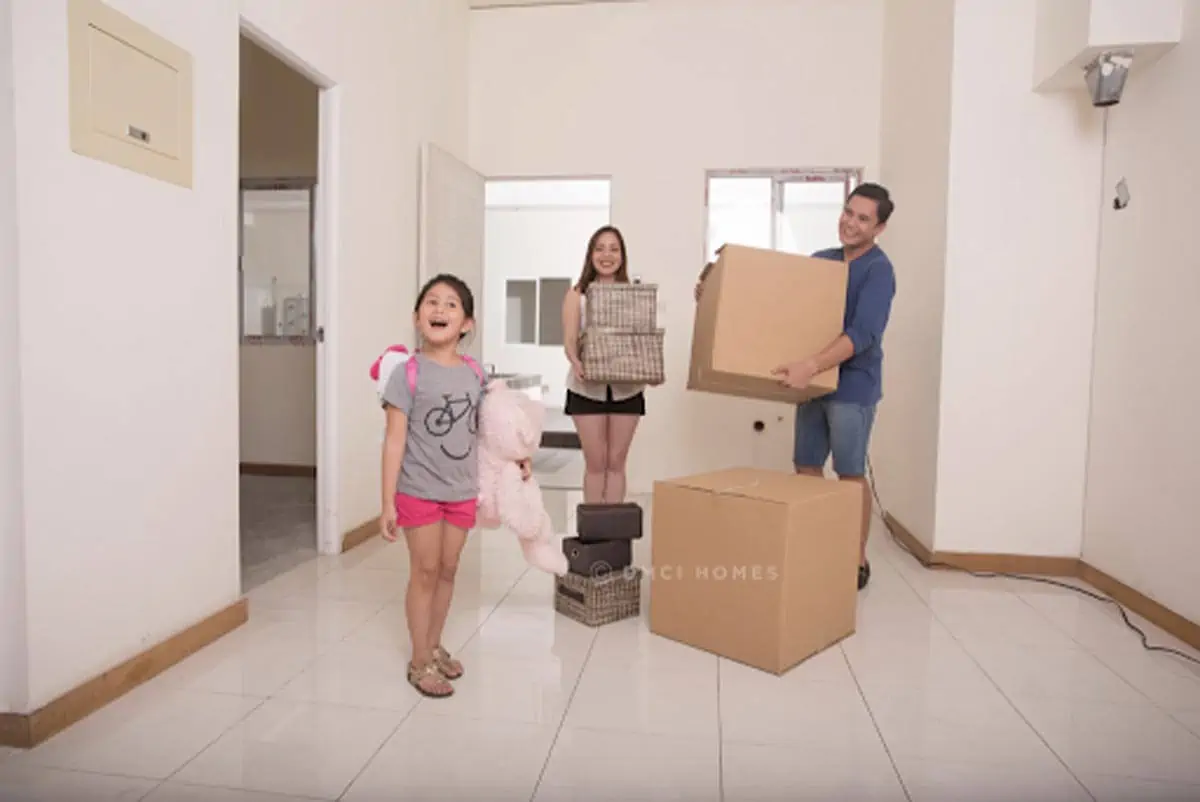 Studio-type condominium units have a design layout that integrates the bedroom, dining area, kitchen, and living area in one open space. Compared to other types of condo units, it has the smallest floor size. Because of this, studio units are the most affordable condo option. For as low as Php12,000 per month, you can rent a DMCI studio unit in key city areas.
Cozy one-bedroom condo units
One-bedroom units are a popular choice for young professionals establishing a career in the city. Just like the studio type, it is smaller and more affordable, but it comes with a partition that makes it more convenient. You will find the most affordable average rental rates for one-bedroom units in Las Piñas and the most expensive in Makati. For as low as Php18,000 per month, you can rent a one-bedroom DMCI condo unit in a busy district in the city of Manila.
Practical two-bedroom condo units
Two-bedroom condo units are a practical option for small families or groups of friends. Parañaque is known to be a popular location for this type of condo unit, with rental rates running at an average of Php24,850 per month. Two-bedroom condo units in Las Piñas have more reasonable rates, with monthly average rent running at Php28,040 per month. A DMCI condo unit in Las Pinas can go cheaper, though, with a two-bedroom unit in Maricielo Villas offered at only Php23,000 per month.
Luxurious three-bedroom units
Three-bedroom units are ideal for those who seek the comfort of a larger space with the convenience of condo living. Condo units of this size, however, are often of the penthouse or luxury type. Monthly rental rates can be extremely high, especially in prime locations.
Taguig, particularly the Bonifacio Global City area, offers the most expensive three-bedroom units running at an average rental rate of Php156,700 per month. Makati is trailing closely behind, with a monthly average rental rate of Php150,700. You'll be surprised to learn though that you can rent a three-bedroom unit at the DMCI Cypress Towers in Taguig for only Php20,000 per month.
Unfurnished condo units
Another factor that affects the rental price of a unit is whether it is furnished or unfurnished. Developers often deliver units to buyers at their unfurnished state. Renting unfurnished condo units means the tenants receive the unit exactly how the owner got them from their developer. In the Philippines, unfurnished condo units often come with floorings, kitchen cabinets and sink, painted ceiling and walls, electrical wirings and outlets, and front and internal doors.
Semi-furnished and fully-furnished units
Condo units are also offered semi-furnished and fully-furnished. Semi-furnished is a vague term, so make sure you ask your landlord exactly what you will be getting for the unit, or read up the general rules for rent contracts and the rental law in the Philippines. Will it include air-conditioning, a water heater for the bathrooms, appliances, and furniture? Furthermore, what appliances and furniture pieces will be included? There is no general rule for semi-furnished units, so make sure you ask prospective landlords for specifics.
Condo units advertised as fully-furnished are expected to have everything a unit needs to be deemed completely liveable.
Use the time to improve your credit score
Given the time that this kind of agreement affords you, use this time wisely by improving your credit score.
Philippine credit scores play a big role in helping you secure a mortgage for your eventual home purchase. The higher your score is, the easier your access will be to loans for this financial responsibility. You gain a higher chance of approval from financial institutions with a really good credit score.
A rent-to-own contract provides you the time to get your finances in order, especially during a financial crisis. You get to "lock down" and even live in your future home while saving up for it. So make use of your time by working towards a fantastic credit score.
It's up to you to determine if RTO is a good financial strategy for you. How much you have to put down each month or year for a rent-to-own condo in the Philippines will really depend on your future agreement with your landlord.
A look at the purchase and initial renting guide
If you finally decide to buy a condo, the first thing that you need to settle is the purchase cost. In the tradition of real estate in the Philippines, you normally have to pay 10–30%down payment (DP). Most pre-selling condominiums now offer very flexible down payment terms. For example, you will be given up to 24 months to pay the 20% DP with zero interest. It normally takes two years before the developer turns over the unit to you.
Let's say a one-bedroom unit in a prime location has a total contract price (TCP) of three million pesos at 20% DP that you have to complete within two years. Most developers also require a minimal registration fee upon intent of purchase.
Initial renting costs, on the other hand, require deposit. For example, an owner can charge 15,000 for initial reservation costs. The monthly rent for a one-bedroom condo in a prime location and with a trusted developer is usually around 25,000 on the average.

As long as you've decided on your future home, a plan for your rent-to-own condo in the Philippines will probably be the most affordable property investment for you. It's a wise way for you to lock down your dream home, even when you can't manage a huge down payment in one go. You save cash and build your creditworthiness in time for your future mortgage payment.
Plan your life for your rent-to-own condo in the Philippines wisely
Fees upon move in
The price of condo living is a serious investment and with the right amount of hard work and saving practices, you're sure to brush off your money worries when choosing a condo for you. Upon moving in, do take note of the fees that still need to be settled, whether you buy or rent. The buyer will have to settle membership and monthly association fees. Most developers also put the yearly payment of realty tax to the owner once moved in. Real property tax is paid to the local government unit with rates varying for every city or municipality. Within Metro Manila for a one-bedroom condo, it usually does not go beyond 10,000 a year.
For a tenant, he may or may not pay association dues depending on agreement with the landlord.

Monthly costs
Before buying or renting a condo, ask yourself if you can manage to settle the costs with your current financial status. It is important that you have a steady monthly income that can shoulder all your expenses. You can also check your preferred bank with their condo financing rates and their terms of payments. Make sure that you sit down with your broker and compute your mortgage with corresponding interest rates.
The tenant, on the other hand, will still pay the same monthly rent. Remember that owners can increase rental rates after sometime as allowed by Philippine laws. Other monthly costs include payment for utilities. Here is a sample computation of our mortgage costs:

Next steps after the full payment
A clearance for unit turnover will automatically be processed and released by the Documents and Inventory Control Department to the Turnover Department once the necessary documentary requirements have been met based on the chosen payment term and updated payment status. A notarized Deed of Absolute Sale will be released one year from the date of full payment for your condo purchase along with the transferred title and tax declarations under your name. After 12 years (two years down payment, 10 years installment) of paying your monthly mortgage plus interests and taxes, this will enable you to own a condo unit.
Considering all the initial, monthly, and yearly costs, how much will it take you to buy a condo unit? What is the total price when you decide to rent a condo unit taking in all of the factors above? Let's find out with the simplest computation based on the values provided from our previous examples:
Before signing the contract
Let's say you're fully decided on an RTO scheme and want to pursue a contract already. As a wise renter, you'll need to plan out a few key things before making that condo real estate commitment for your future property.
Before signing any contracts, seek the expertise of lawyers and real estate experts so that you can cover all your bases. There are no limits to the provisions you can put in your contract, as long as you communicate well with your landlord and your lawyer.
If your intention to buy the unit is already stipulated in your contract, you have to eventually make that purchase upon expiration of the lease. If you decide against buying the property in the future, you'll have to forfeit all the additional payments you made towards its down payment — so commit wisely.
Before signing the contract, both parties also have to agree on basics such as the monthly rental, final purchase date, and the sales price for the purchase. As the buyer, take note of contract rules regarding family, pets, and possible renovations in the future too.
After signing the contract
Once you sign the contract, remember to follow through on your financial responsibilities, even as you're renting the home.
Since this is a long term investment towards your future, take the time to save up for future payments for legal fees to actually own the property. You should find ways to increase your income and get rid of debt too so that the stress doesn't pile up before the final purchase date.
Never forget to take the time to improve your credit score too so you can qualify for a loan for that final purchase date. You have a long-term goal to work towards, even if your RTO agreement lasts longer than a year. As an aspiring homeowner, you need to think long-term and plan ahead for that happy and secure future.
Manage your responsibilities with your landlord
When investing in prime real estate, you want the best of the best. But to ensure a high quality of living, you also need to agree on who is responsible for what in the upkeep of the condo. In traditional landlord-renter or buyer-seller relationships, responsibilities are clear. But in a rent-to-own situation, who's in charge of the upkeep responsibilities?
Clarify your maintenance responsibilities. If you're in charge of the maintenance, clarify what falls under "maintenance" with your landlord. Does it include everyday tasks like cleaning the property? How about minor repairs? Clarify these responsibilities so that you can maintain a safe and functional home.
Know who's in charge of major issues. When it comes to appraisals and inspections, who's in charge? Specify who is responsible for serious maintenance issues, so that you don't end up getting evicted for a misunderstanding.
Specify responsibilities for fees and taxes. You'll also need to specify who is in charge of association dues and property taxes during the lease. If your landlord wants you to pay for those on top of your incremental down payments and monthly rent, they need to stipulate that in your contract. Otherwise, they're responsible for those fees, even if you intend to purchase the property.
Just make sure to go over every little detail of your RTO agreement with your landlord so that you're both clear on your responsibilities for this long-term property investment.
Look into the future of your real estate investment
As a wise renter and an aspiring homeowner, you need to look into the future of your real estate investment so you can plan ahead for any unforeseen circumstances. Some critical life questions you'll need to consider:
How stable is your job right now?
Will you be getting a raise or a promotion any time soon?
Are you marrying someone or starting a family in 2022?
In essence, are you expecting any long-term plans that may impact your decision to pursue an RTO?
You need to plan for future crises for your long-term investment too. Take into consideration these important questions:
Are you prepared for another pandemic? If not, what can you do to prepare?
Is your future home calamity-proof? How can you make it calamity-proof?
How can you work towards financial stability to ensure your security in case of another global crisis?
If 2020 taught the world anything, it was to expect the unexpected. Always prepare things ahead of time for your long-term, rent-to-own property investment.
Key takeaways
If you're an aspiring homeowner, you probably had a hard time investing in any long-term real estate decisions in 2020. It was the year when the world experienced being financially unstable, due to the pandemic and other natural calamities.
But this year it's time for a new outlook on your investment plans, as we recover from the negative impact of the COVID-19 pandemic. As a wise renter, you have the opportunity to look forward to a future home if you take the time to explore every real estate possibility and learn about the rental law in the Philippines. Think about the great opportunities that have presented themselves to you so far:
Don't be afraid to explore a rent-to-own condo contract if you're an aspiring homeowner in a financially unstable situation. It might work best for you!
If you plan on committing to this long-term financial plan, use the time to take steps towards ensuring your financial stability overall.
Communication with your landlord is the key to a successful RTO contract.
You have hope for the future of your financial situation. There's so much to look forward to, if you know the right direction to take.
Go from renting a property to owning one when you explore the world of rent-to-own condo plans. If you need more advice on condo real estate in the Philippines, check out DMCI Homes Leasing Services for more real estate tips and tricks.
To learn more about DMCI Homes pre-selling and ready for occupancy projects, units for lease, and special promos, log on to www.dmcihomes.com or call (632) 5324-8888. You can also check out https://leasing.dmcihomes.com/ for currently available condos for rent.
For news and other updates, check out our social media accounts on Facebook, X, Instagram, and YouTube.