Still dreaming of your dream condominium? Still imagining yourself enjoying the perks and amenities of condo living? There is no question that condo is a good investment, but will you prefer to rent or to buy a unit? Of course, either way, being part of the growing condo rental market in the Philippines is a good move for you. But which one best fits you and your lifestyle considering your budget and future plans? Using measurable factors, let's see the cost of buying a condo and the cost of renting one.
A Look at the Purchase and Initial Renting Costs
If you finally decide to buy a condo, the first thing that you need to settle is the purchase cost. In the tradition of real estate in the Philippines, you normally have to pay 10–30 per cent down payment (DP). Most pre-selling condominiums now offer very flexible down payment terms. For example, you will be given up to 24 months to pay the 20% DP with zero interest. It normally takes two years before the developer turns over the unit to you.
Let's say a one-bedroom unit in a prime location has a total contract price (TCP) of three million pesos at 20% DP that you have to complete within two years. Most developers also require a minimal registration fee upon intent of purchase.
Initial renting costs, on the other hand, require deposit. For example, an owner can charge 15,000 for initial reservation costs. The monthly rent for a one-bedroom condo in a prime location and with a trusted developer is usually around 25,000 on the average.

Fees Upon Move In
The price of condo living is a serious investment and with the right amount of hard work and saving practices, you're sure to brush off your money worries when choosing a condo for you. Upon move in, do take note of the fees that still need to be settled, whether you buy or rent. The buyer will have to settle membership and monthly association fees. Most developers also put the yearly payment of realty tax to the owner once moved in. Real property tax is paid to the local government unit with rates varying for every city or municipality. Within Metro Manila, the rates do not exceed 2% of the assessed value of the property. For a one-bedroom condo, it usually does not go beyond 10,000 a year.
For a tenant, he may or may not pay association dues depending on agreement with lessor.

Monthly Costs
Before buying or renting a condo, ask yourself if you can manage to settle the costs with your current financial status. It is important that you have a steady monthly income that can shoulder all your expenses. Following our example, a buyer on a 20–80 installment scheme will have to pay monthly mortgage rates. The buyer will need to enroll the 80% balance of the TCP to the developer's in-house financing, bank financing, or thru Pag-IBIG. You can also check your preferred bank with their condo financing rates and their terms of payments. Make sure that you sit down with your broker and compute your mortgage with corresponding interest rates.
The tenant, on the other hand, will still pay the same monthly rent. Remember that owners can increase rental rates after sometime as allowed by Philippine laws. Other monthly costs include payment for utilities. Here is a sample computation of our mortgage costs based on our previous examples:

Next Steps after Full Payment
A clearance for unit turnover will automatically be processed and released by the Documents and Inventory Control Department to Turnover Department once the necessary documentary requirements have been met based on the chosen payment term and updated payment status. A notarized Deed of Absolute Sale will be released one year from the date of full payment for your condo purchase along with the transferred title and tax declarations under your name. After 12 years (two years down payment, 10 years installment) of paying your monthly mortgage plus interests and taxes, this will enable you to own a condo unit.
Considering all the initial, monthly, and yearly costs, how much will it take you to buy a condo unit? What is the total price when you decide to rent a condo unit taking in all of the factors above? Let's find out with the simplest computation based on the values provided from our previous examples: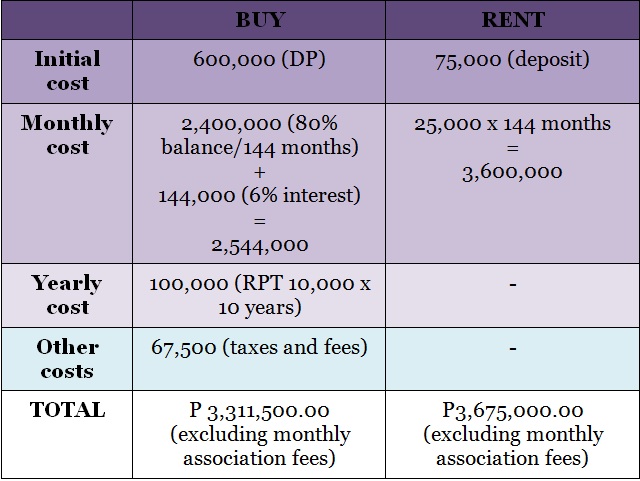 Note: Based on simple computation.Actual computation may include other fees and may come up with varying results.
Buying a condo in the Philippines or renting one requires financial commitment and wise financial management. With the current amenities and services it offers, its accessibility, plus the current living trends in the cities, condo living is indeed for anyone who wants to experience a new way of living. As long as you are firm with your decision of living in a condo, choosing to rent or to buy a unit will not be a problem. Allot a time to sit down and compute your expenses for renting or buying a condo so that in no time, you'll be able to experience and enjoy condo living at its best. Taking time to read guides in buying a condo in the Philippines will help too.